Small Van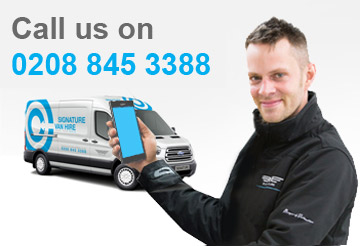 EXTERNAL DIMENSIONS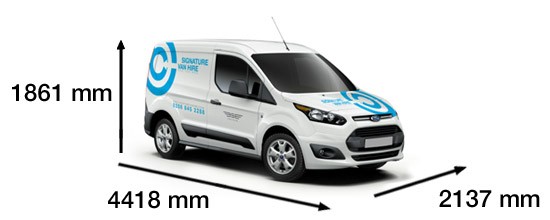 INTERNAL DIMENSIONS
| | |
| --- | --- |
| Length | 1753 mm |
| Width | 1538 mm |
| Height | 1269 mm |
KEY FEATURES
| | |
| --- | --- |
| Make | Ford |
| Model | Transit Connect |
| Body Style | VAN |
| Exterior Colour | White |
| Interior Colour | Black |
FORD TRANSIT CONNECT
Forget the Fiesta, what Ford are really renowned for is making vans – and with good reason. Ford's vans are consistently tough, practical and reliable, with a versatile functionality that works for everyone from tradesmen to those moving house.

Our Ford Transit Custom Connect provides everything you could need from a van: 2.9 cubic metres of space in the back, a minimum fuel economy of 57.7MPG, and a comfortable car-like cabin up front. One of the great surprises about this vehicle is that it doesn't look like a 'box on wheels', but rather has been designed to look stylish, with bold contemporary styling that creates a striking and professional image. It's been designed by Ford kinetic Design, and as well as ensuring you're not embarrassed to be seen driving this van during your hire, it also means that the vehicle is more aerodynamic and consequently uses less fuel.

This practical, comfortable van is guaranteed to make your life easier and to provide a pleasant journey – no matter how much stuff you need to transport! Here are some of the reasons we love this van:
IT HAS A HUGE AMOUNT OF SPACE
Not only does the Ford Transit Custom Connect have a huge amount of storage space – 2.9 cubic metres, but it also has an ingenious load-through bulkhead that enables you to stow ladders and other tricky long loads up to 3.0m long. The bulkhead has a flip-up hatch at the bottom, through which you can slide long items over the folded front passenger seat and into the front passenger area. Behind the bulkhead, there's even room for two part-loaded Euro-pallets.
The back of the van is well laid-out and highly functional, with a sliding side-load door and symmetrical rear cargo doors. You'll be able to take 602 kilograms of payload, thanks to the tough composition of the van which is much sturdier than the stylish exterior design would suggest. Everything about the rear has been designed to be as ergonomic and safe as possible – there are side-wall mounted tie-down points help keep the load floor clear, as well as also body side fixings mounted at both waist and shoulder height, which are rated at 30kgs load.
The loadspace also comes with new lamps, which are twice as bright as previous models and designed to ensure you can load your items safely. There is also heavy-duty lining on the floor of the van to ensure whatever you're transporting has a comfortable and scratch-free ride!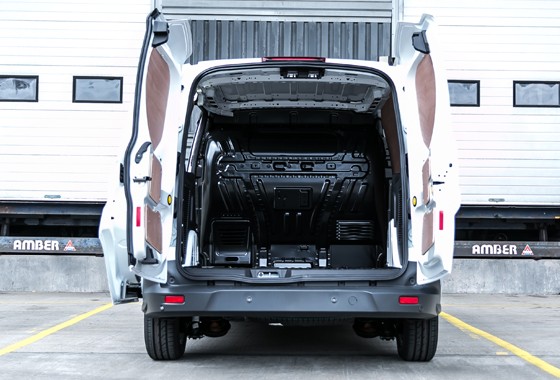 IT'S PACKED WITH CLEVER TECHNOLOGY
Here are just a few of the van's great technological features:
Eco Mode continually assesses the effects of your driving behaviour on your fuel consumption, then advises you on how to improve fuel economy. This is great if you're trying to keep fuel costs as low as possible.
Ford SYNC might sound like a boyband, but it's actually advanced hands-free technology that allows you to make calls or play music from your phone through voice commands.
Rear view camera helps you to park and avoid any hazards in the way. Coupled with the parking sensors, this makes even the smallest spaces seem a breeze.
Cruise Control allows you to set and maintain a speed without any of the hard work – perfect for those long tiring journeys!
Heated drivers' seat – to warm you up after you've been loading or unloading in the cold.
Quickclear is designed to get you moving quickly on chilly mornings - just touch a button and the system can de-ice or defrost the screen in seconds, even if it's freezing outside.
THE CABIN IS SURPRISINGLY COMFORTABLE
First time van drivers might be shocked by the cabin's resemblance to their own car, as Ford have designed this cabin to be as comfortable and ergonomic as any standard vehicle. Part of the car-like feeling comes from the van's sophisticated chassis and suspension design, not to mention its front wheel drive and power steering.
The Ford Transit Custom Connect's Flexible Dual Front Passenger Seat also allows you to seat up to three people up front, meaning that you can always take along help to move your boxes!
THE ENGINE AND AERODYNAMICS PROVIDE BRILLIANT FUEL ECONOMY
The Ford Transit Custom Connect has a 1.6 litre Duratorq TDCi diesel engine with a five-speed 115PS manual transmission. If you're worried about filling up with the wrong type of fuel, moreover – don't! Ford Easy Fuel makes it almost impossible for you to insert the wrong type of fuel because only the correct nozzle will fit. Better still, it's a capless system meaning that you won't get mucky at the petrol station.
The stylish design of the exterior does more than just look good – it reduces the drag on the car and consequently means you need to use less fuel. Alongside this is Ford's clever Active Shutter Grille: it stays closed to give fast warm-up to operating temperature, then opens when you're driving slowly to cool the engine. When you pick up speed, however, it will automatically close, improving aerodynamics and helping to save fuel.
As a result, the van has some of the best miles per gallon figures in the industry, with a combined MPG of 60.1. For those operating outside urban areas there's even better news, as the MPG will rise to 65.7.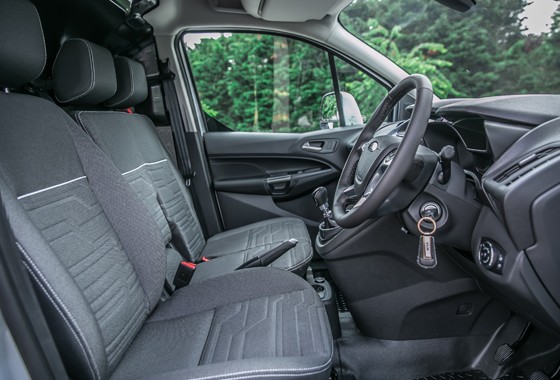 WHY HIRE THE FORD TRANSIT CUSTOM CONNECT?
This is a reliable and surprisingly stylish van that will not only get your belongings from A to B but will also ensure you do that journey in complete comfort. With excellent fuel economy and a raft of high-tech safety features, this the perfect vehicle for those moving into a new home, or for organisations looking to transport items in a professional manner with the minimum of fuss.