Short Wheel Base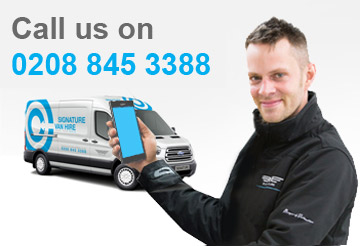 EXTERNAL DIMENSIONS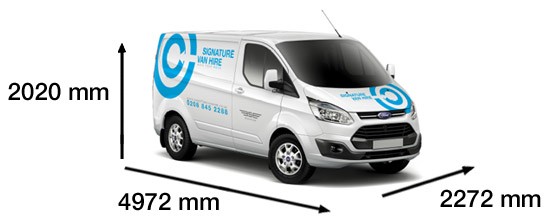 INTERNAL DIMENSIONS
| | |
| --- | --- |
| Length | 2555 mm |
| Width | 1775 mm |
| Height | 1406 mm |
KEY FEATURES
| | |
| --- | --- |
| Make | Ford |
| Model | Transit Custom |
| Body Style | Panel Van |
| Exterior Colour | White |
| Interior Colour | Black |
When it was launched in 2013, this van became the standard by which all other vans are measured. As a testament to this, it was the first ever vehicle to win the Auto Express Van of the Year award, with the respected magazine writing that:
"Auto Express praised its safety credentials, including Ford's SYNC with emergency assistance, which helps occupants phone the emergency services in one of 26 languages. The judges also said the Transit is one of the best-driving vans, with good ride and handling."
Not only does it provide an excellent and stylish drive, but this van is also one of the safest ever produced: it was the first and only van in its segment to have achieved a maximum 5-star safety rating by Euro NCAP. Two of its innovative technologies, Lane Keeping Alert and Ford SYNC® with AppLink and Emergency Assistance, also received Euro NCAP Advanced rewards for technology: the first for any commercial vehicle in history.
Whatever your errand, the Transit Custom delivers an exceptional experience and more than enough loadspace to get the job done. For full details of this mid-sized, highly spec'd van, read on.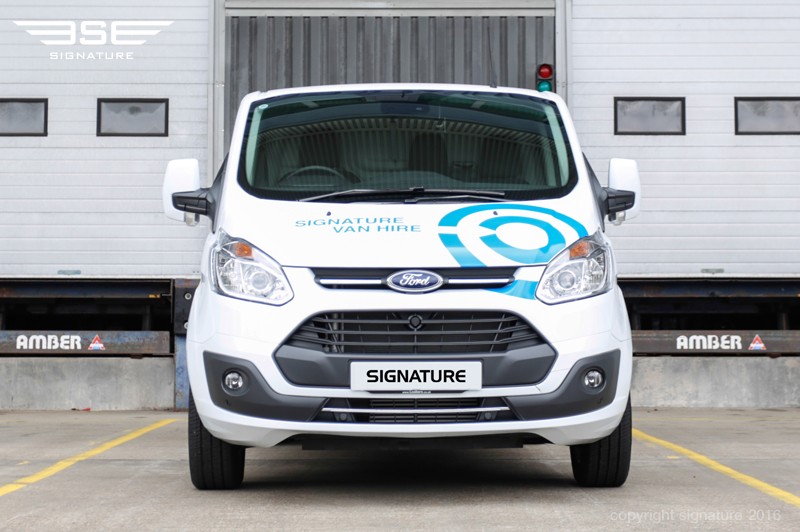 AN ELEGANT AND MODERN VEHICLE
Ford are very good at making vans that don't really feel like vans, both on the inside and the outside. The Transit Custom is a shining example of this, with contemporary exterior styling which is far sleeker and more elegant than you might expect from a vehicle than can haul several tonnes of load across country.
In particular, we love the high sweeping coachline on the sides of the van, which create a dynamic effect that's accentuated by the gorgeous body colour we've chosen.
A HUGE AMOUNT OF VERSATILE LOADING SPACE
This is one of the most important factors in any van hire, and the Transit Custom does not disappoint. Our version provides 5.9 cubic metres of load volume, with a load length of over 2.5 metres, load width of over 1.7 and a load height of nearly 1.5 metres.
A great feature of the loading space is the full-width steel bulkhead, which reduces noise in the cab and provides protection for the occupants against moving loads. The bulkhead has a load-through facility for longer loads to slide under the front passenger seat, allowing you to transport items up to 3 metres long.
WHY HIRE THE FORD TRANSIT CUSTOM?
This really is the gold standard of vans, and will deliver a great experience no matter what you need it for. With a cabin that looks reassuringly like that of a car, it's a great choice for first time van drivers who need to transport their belongings on a one-off journey, and it certainly delivers enough space for most of your transport needs! Even for seasoned van hirers, however, the Transit Custom will undoubtedly impress with its level of comfort, style and practicality.
That unique five star safety rating is the icing on the cake, and should give you peace of mind that, regardless of your level of van driving experience, your journey is in very safe hands indeed.
A COMFORTABLE AND PRACTICAL INTERIOR
The storage options don't end in the rear of this stylish van. In the cab, the front passenger-seat cushions can be flipped up to reveal a hidden storage compartment that will easily accommodate a laptop or small toolbox, providing added security. There are also lots of other neat storage options in the passenger area, perfect for stashing those smaller items you need to access in a hurry.
Yet the interior is so much more than a practical workspace. It's also supremely comfortable, with many of the features you'll have come to know and expect from a standard car. The Transit Custom uses a similar centre console to Fiesta and Focus cars, with an audio control that resembles a mobile phone button pad. This is linked to a state of the art DAB digital radio connected to four speakers, which can also be linked to your own music playing device via USB.
Because we know how important comfort is when you're transporting things over long distances, we've added all the luxury specifications to this van, including:
Heated front seats
Leather trimmed steering wheel and gear stick
Heated electric mirrors
A dual passenger seat with fold-out table
Air condition
Cruise control
Rain-sensing wipers and heated windscreen
As you can see the interior delivers everything you'd expect and need from a driving experience, regardless of the kind of vehicle you're driving. We guarantee that the cabin will deliver a smooth and enjoyable journey – just the thing if you're stressed after moving!
Drivers should also note that the adjustable steering column – the first of its kind on a Transit van – eight-way adjustable steering wheel and high riding position all allow you to create a comfortable driving position that's right for you.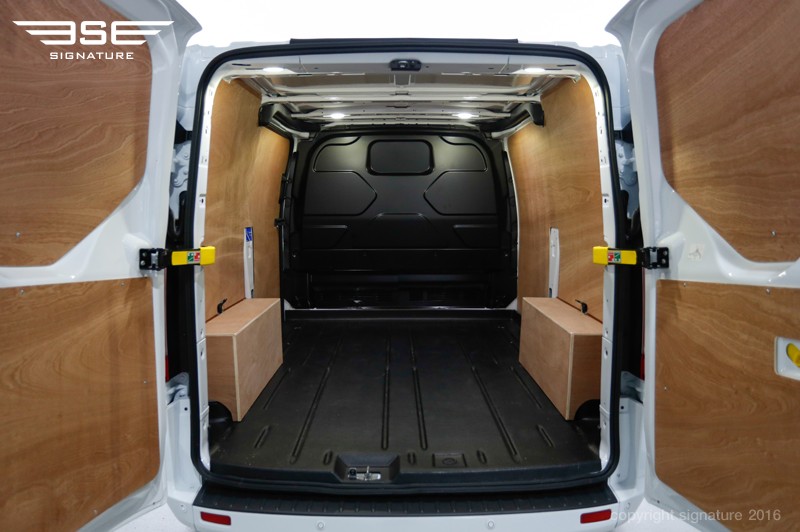 THE ENGINE IS EFFICIENT YET POWERFUL
The Transit Custom comes with an advanced and economical 2 litre Duratorq TDCi 130PS 96kW diesel engine, with a smooth six speed manual transmission and front wheel drive. Torque and torque delivery have both been improved on the previous version, so the vehicle offers you plenty of power whether it's loaded up or not – even when pulling away.
Thanks to Ford's flagship ECOnetic technology, the van is also surprisingly fuel efficient, ensuring that you can keep your costs down no matter how far your journey – or however many trips you have to make.