XL Wheel Base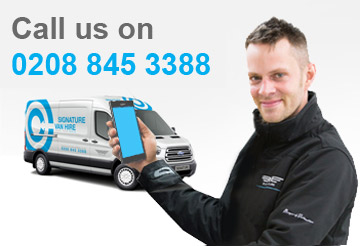 EXTERNAL DIMENSIONS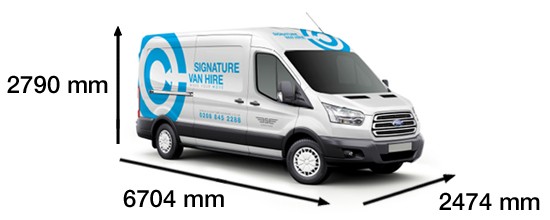 INTERNAL DIMENSIONS
| | |
| --- | --- |
| Length | 4217 mm |
| Width | 1784 mm |
| Height | 2025 mm |
KEY FEATURES
| | |
| --- | --- |
| Make | Ford |
| Model | Transit |
| Body Style | Panel Van |
| Exterior Colour | White |
| Interior Colour | Black |
FORD TRANSIT - EXTRA LONG WHEELBASE
The Transit we have for hire is one of the all-new models, which has seen both a style and a technology upgrade from the previous version. This means that you still get all the benefits of this classic van, but in a version that provides essential modern updates that ease your journey and provide an experience that is both safer and more stylish.
Just some of the state-of-the-art technologies included are Ford SYNC with Emergency Assistance, Adaptive Cruise Control and Curve Control. All are there to make life easier and many of these systems work automatically, leaving you free to concentrate on more important things.

Despite its size, it's also remarkably fuel efficient, making hiring our van an economical choice for almost every task. Here are some of the other great reasons for hiring our Ford Transit:
IT IS A FANTASTIC EXAMPLE OF BRITISH ENGINEERING
We're very proud that our Transit is a shining example of British engineering. The vehicle was entirely designed and engineered in Ford's Dunton engineering centre in Essex, while the engines are built in nearby Dagenham. Hire this van secure in the knowledge that you're flying the flag for British creativity!
IT HAS A HUGE AMOUNT OF SPACE
We can't stress this enough, there is a huge amount of space in the back of this Ford Transit. In fact, at over 15 square metres, it's bigger than some flats! The van is over six metres long in total, with a load length of 4.2 metres. It's suitably wide, too, with a maximum load width of 1.78 metres and a load height of 2 metres.
In this new version, it's clear to see that Ford has worked hard to increase the usability of the Transit's load area: it's a lot more rectangular than the previous model, allowing you to load items more easily and stack them in a more organised manner. The van's load space now also comes with thoughtful little features such as the bright LED lighting and the tough plastic load floor covers that extend up the walls of the van, as well as a wide step cut into the rear bumper.
A great feature of the loading space is the full-width steel bulkhead, which reduces noise in the cab and provides protection for the occupants against moving loads. The bulkhead has a load-through facility for longer loads to slide under the front passenger seat, allowing you to transport items that are even longer than the load space allows for.
IT'S POWERFUL ENOUGH TO GET YOU FROM A - B, REGARDLESS OF THE SIZE OF YOUR LOAD!
The Transit comes with an advanced and economical 2 litre Duratorq TDCi 130PS 96kW diesel engine, with a smooth six speed manual transmission and front wheel drive. Torque and torque delivery have both been improved on the previous version, so the vehicle offers you plenty of power whether it's loaded up or not – even when pulling away.
Thanks to Ford's flagship ECOnetic technology, the van is also surprisingly fuel efficient, ensuring that you can keep your costs down no matter how far your journey – or however many trips you have to make.
IT'S VERY SAFE
Ford take their vehicle safety very seriously, and they subjected this Transit to a rigorous testing programme that took in 680,000 miles of driving. Around half these miles were driven by everyday Transit customers who then reported back on the issues – meaning that it's already been proofed against the kind of scenarios you yourself might come across.
The van comes with one of the most advanced ESC stability control systems ever seen on a van, and has a host of clever technological features to ensure you stay on the road. Our favourite is Load Adaptive Roll Stability Control, which holds you steady against the destabilising effect of a heavy load in the back – and with such a huge amount of load space whatever you're transporting is bound to be heavy!
Other safety features we love are:
Curve Control
Trailer Sway Control
Front, side and curtain airbags
Cornering headlights
Parking sensor
Automatic headlight
IT'S SURPRISINGLY COMFORTABLE INSIDE
We all know the stereotype of the rugged, practical white van, but actually nothing could be further from the truth. Ford knows that van drivers often spend many hours in their vehicles, so they've done everything possible to make that time truly pleasant.
First time van drivers may be surprised to find that the interior resembles that of a standard Ford car – the only difference is the lack of a rear-view mirror! There is, for example, an infotainment screen on the centre console, along with a high quality sound system and Bluetooth connectivity. The steering wheel and gear knob are both covered in leather, while cruise control ensures that the driving experience is as smooth as possible on long journeys.
Of course, there are also elements you'd only find in a van. For example, there's a clever hidden storage compartment under the passenger seat, allowing you to securely store small items you might not want to leave in the back. Not that the load space is unsafe, however, Ford has fitted state-of-the-art alarms to the Transit designed keep your possessions completely secure.
WHY HIRE THE FORD TRANSIT EXTRA LONG WHEELBASE?
One in every four vans on the road is a Transit, which should tell you everything you need to know. This is the true workhorse of the Ford van range, and is there to support you on every step of your journey – no matter what you're transporting. Thanks to the extra long wheelbase of this model, it's perfect for those one-off journeys where you need to transport a large amount of items and would prefer to make just one trip! Mind you, the cabin of this van is so comfortable, you might find yourself taking the long way round just to prolong the ride.