VW Transporter T6 Transporter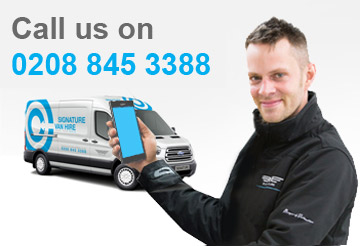 Overview
The transporter is undoubtedly Volkswagen's most successful van, having been around for more than 60 years and been sold by the thousands during that period. Its success is amusing to those who know the history: the only reason the van was ever built was because one of the company's designers saw Volkswagen staff moving car parts with a stripped down Beetle, and decided they needed something more suitable!
The designer did a great job, and if you need a medium sized van that is spacious and flexible but without the complexities involved with hiring a really large van, then this is for you. This is the latest version of the VW Transporter, launched Autumn 2015 and offering a few significant upgrades on the previous version: it's now a more modern proposition, with upgraded design features and cabin quality, yet also retains the excellent build quality and drivability that we've come to know and expect.
Exterior
There have been some wonderful improvements to the exterior of the van, meaning that the T6 looks more professional and more modern than ever before. The van looks like it's been milled from a solid block of steel, with modem creases and sculpted edges that run consistently from front to back. It now has distinctive anglular headlamps accompanying those crisper lines, as well as a smart new grille and a revised fog light design. In other words, it's a very smart, modern new vehicle indeed.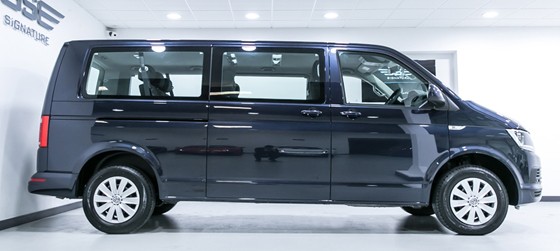 Interior
The interior of this Transporter T6 will certainly be familiar to VW fans. Indeed, as one critic wrote: "Its dashboard, steering wheels, switchgear, and shifter look as if they were lifted out of a Jetta".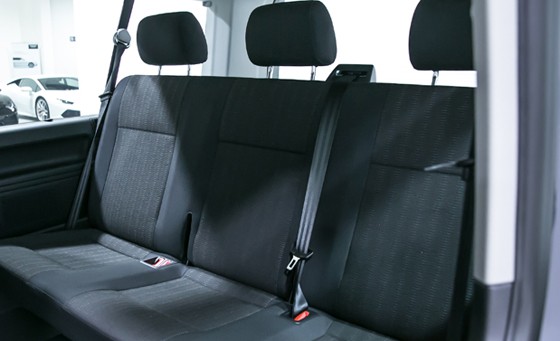 Passengers, and there are plenty thanks to the van's rows of seats, benefit from an amount of tech that may seem surprising in a commercial vehicle. There is, for example, a motion-based infotainment system that automatically switches from display mode to input mode when either the driver or passenger put their hand in proximity of the 6.3-inch screen.

As well as comfort, the van's interior also offers practicality. Each door, for example, incorporates both upper and lower storage bins, the lower one able to accommodate both a 1.5-litre bottle and an A4 clipboard. On the passenger side, there's a storage box under the seat and, on the side of the facia, a net to hold documents. Pull out the ashtray and you'll find cup holders on both sides and there's a shelf for your sunglasses above the windscreen.
What's it like to drive?
The van is incredibly responsive when you're behind the wheel, so much so that you might think you're back in your car. It offers a wonderful driving experience, no matter what the load, and with the adjustable steering wheel and driver's seat you're guaranteed to have a comfortable, relaxing ride. As with all Transporters, the handling is precise, and there is plenty of feedback through the redesigned steering and responsive gearshift.

One really surprising feature of the van is how quiet the ride is. It is substantially quieter than any other van on the road, meaning that even after a long day's drive the cabin is still a restful place and somewhere you want to be.
Th van is also geared to ensure the driver can be as safe as possible. The braking system. For example, not only contains ABS, with Electronic Brakeforce Distribution and Electronic Braking Control to maximise its effectiveness, but as soon as it is deployed it is set up so that the brake lights flash rapidly to alert following vehicles. furthermore, once you've come to a standstill the hazard warning lights come on automatically.
Other safety features include
Adaptive Cruise Control with VW's City Emergency Braking function. This acts automatically to warn and then proactively slow the van down to avoid a crash when under 30 mph. VW's Driver Alert System monitors the driver's behaviour, and if it detects the driver is drowsy, alerts the driver that a break is needed.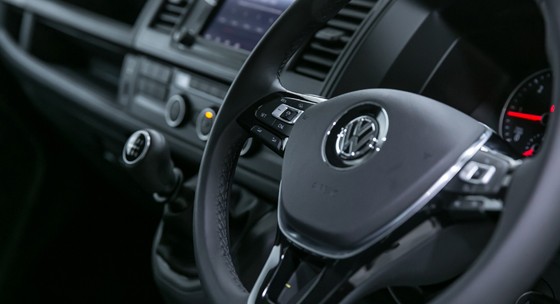 Under the bonnet
The van is powered by a two litre Diesel engine that makes the most of Volkswagen's capability to engineer effective, efficient workhorses. The engines in the Transporter, moreover, are specifically engineered solely for the van, meaning that you can rest assured that they'll get the job done, Fuel consumption has been reduced by 15 percent in this model, which will be very welcome news for those going long distances in the Transporter T6.
The chassis of the T6 is also pretty high tech, incorporating as it does a new feature called Adaptive Chassis Control, which offers three ride settings that include comfort, normal, and sort. The adjustable shock absorbers adapt to the different settings, allowing the driver to customize the driving experience.
In case you're feeling adventurous, the van also comes with VW's 4MOTION AWD system. This includes Hill Descent Assist, a program that controls braking on individual wheels to keep the van's speed in check. It even helps with towing - the system uses brakes and electronic stability control to keep what's been towed from swaying while you're under way.
Why hire?

In the Transporter Volkswagen have created the perfect midsize van, quiet, responsive, reliable and even elegant, there's no wonder that people have remained loyal to VW vans for over half a century. If you're after something comfortable and easy to drive, with plenty of room and enough safety features to protect you from most situations, then this is the van for you.

Offering unbeatable fuel economy, stolid storage space and more than enough room for passengers, the Transporter T6 really is a leap ahead in what was already a great line of midsize vans. Better yet, hiring rather than buying this van means you not only save 25,000 on the initial purchase cost, but also don't have to worry about maintenance, cleaning or storage. What more could you want?